KAK Industry is thrilled to present our innovative K-SPEC PCC Buffer, a remarkable recoil-dampening solution designed for 9mm AR/AR9 platforms. We're deeply grateful for the comprehensive review and insightful analysis by Blowback9, shedding light on the performance and effectiveness of our K-SPEC PCC Buffer.
Embracing Innovation
At KAK Industry, we're committed to pushing the boundaries of firearm accessories to enhance shooting experiences. Our K-SPEC Enhanced Buffers showcase our dedication to crafting cutting-edge solutions that redefine how shooters perceive and manage recoil.
The K-SPEC Enhanced Buffer features a two-piece buffer body, incorporating a spring system within the buffer head to provide impact cushioning, akin to the principles of a hydraulic buffer. This design allows us to offer a superior recoil reduction experience without compromising on simplicity or compatibility.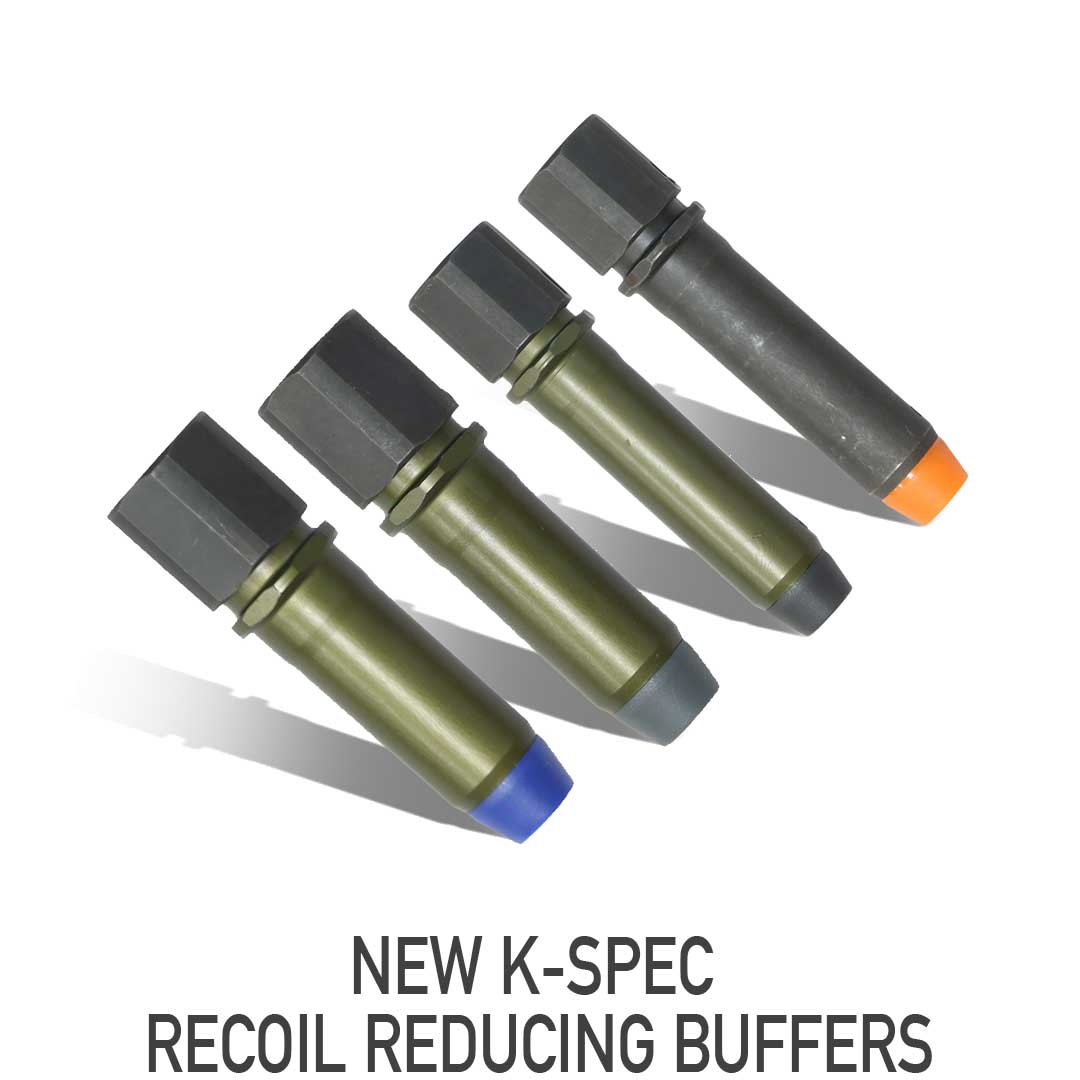 A Holistic Approach to Recoil Reduction
The K-SPEC PCC Buffer operates on the principle of a "holy trinity" for reducing perceived recoil, integrating three crucial elements: high mass to slow down the action, impact dampening to cushion the buffer/bolt impact, and a flatwire spring to minimize noise and maintain smooth operation.
Our meticulous engineering ensures the K-SPEC PCC Buffer effectively reduces perceived recoil, providing a more enjoyable and controlled shooting experience. The included flatwire spring, along with an installation tool, eases the setup process, ensuring hassle-free deployment for firearm enthusiasts.
Performance and Testing
We appreciate the extensive testing performed by Blowback9 to evaluate the K-SPEC PCC Buffer across various barrel lengths and configurations. The results affirm that the K-SPEC PCC Buffer effectively reduces felt recoil, particularly with shorter barrel lengths, contributing to a more comfortable shooting experience.
While cost-effectiveness is a key consideration, we believe the K-SPEC PCC Buffer strikes a balance between affordability and performance. It stands as a viable alternative to other recoil-dampening solutions in the market, providing a notable reduction in felt recoil without breaking the bank.
Conclusion
In conclusion, the KAK Industry K-SPEC Enhanced Buffer is a reliable and practical option for individuals seeking to enhance their shooting experience by minimizing felt recoil. Our commitment to innovation, performance, and affordability drives us to continually refine and develop solutions that cater to the diverse needs of the firearm community.
We extend our gratitude to Blowback9 for his thorough review and valuable insights, further motivating us to innovate and improve. For more information about our products and updates, please visit our website.